Are you ready to replace your old, drafty, stuck patio door?  To help you out, we've gone through our project files to narrow down our Top 7 awesome photos of patio doors to give you some inspiration. Take a look and let us know what you think.
We worked with designer Erin Kleinberg on this beautiful earth-toned living room. Adding Simulated Divided Lites (SDL) colonial grilles to her modern sliding glass patio door, gave it a whole new look.  SDL grilles are placed permanently on the exterior and interior of the glass.  Unlike True Dividing Lights (TDL) which involves many individual glass panes, SDL utilizes 1 single pane of glass which increases the doors' energy efficiency.
We worked with interior designer Tracy Kundell on this project, and she chose three black rail and stile french doors with SDL grilles. What are rail and stile doors? They consist of horizontal members knows as rails and vertical members of the frame called stiles.  The door has no solid panel but instead fills the space with glass allowing in more light.
Instead of having one big sliding door, designer Allison Willson chose double glass french doors. The doors are solid douglas fir on the interior and metal clad on the exterior (see # 4 for exterior).  The big windows beside the door allow for more light to flow into this bright and airy living room.
Did you know you can paint the interior and exterior of your patio doors in different colours? This photo is the exterior view of the white interior french doors above.  There are lots of options when it comes to doors and having different colours for the interior and exterior is one of them.
Modern design is very popular and with this rail and stile french door with SDL grilles is the perfect example.  The homeowner opted for 1 single door with two windows on each side to allow for an ample amount of light into their kitchen and a great view into their backyard.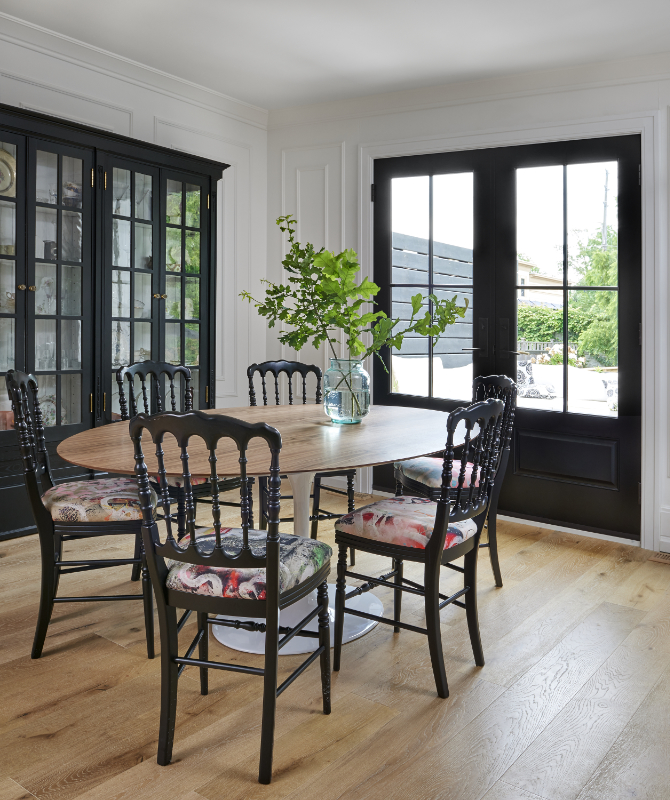 If your taste is more traditional, you can never go wrong with black french double doors. We worked with designer Christine Dovey and she chose wood doors with SDL grilles.  The black hardware also adds that extra flare to complete the look.
Sometimes you just want to to see your backyard and bring the outdoors inside, and if you have space, a
large black sliding door will do the trick. That's what designer Kyle Gordon did in her living room pictured above.  The size of this sliding door is 16ft by 8ft.
If you're ready for a new patio door, get in touch with us today and book a free in-home consultation. We would be happy to help your home ready for backyard season!