The homeowners of this Collingwood home were looking to refresh the exterior look of their vacation property and decided to start with the windows.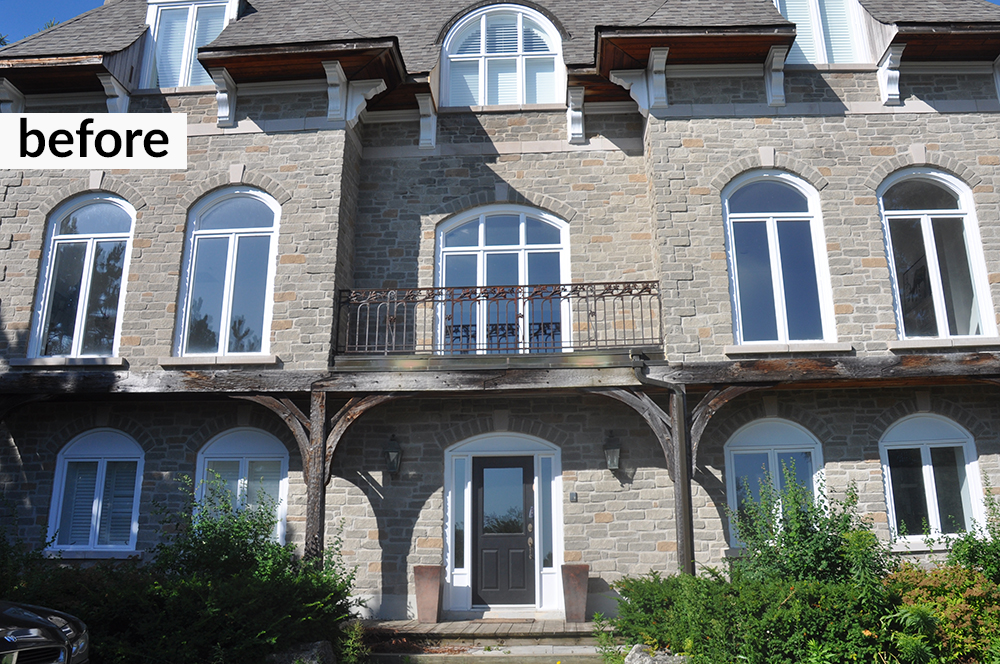 As you can see, some very simple changes updated the whole look of the building.
The weather in cottage country can be very hard on building exteriors and the homeowners were appreciative when we suggested solutions that could withstand the elements.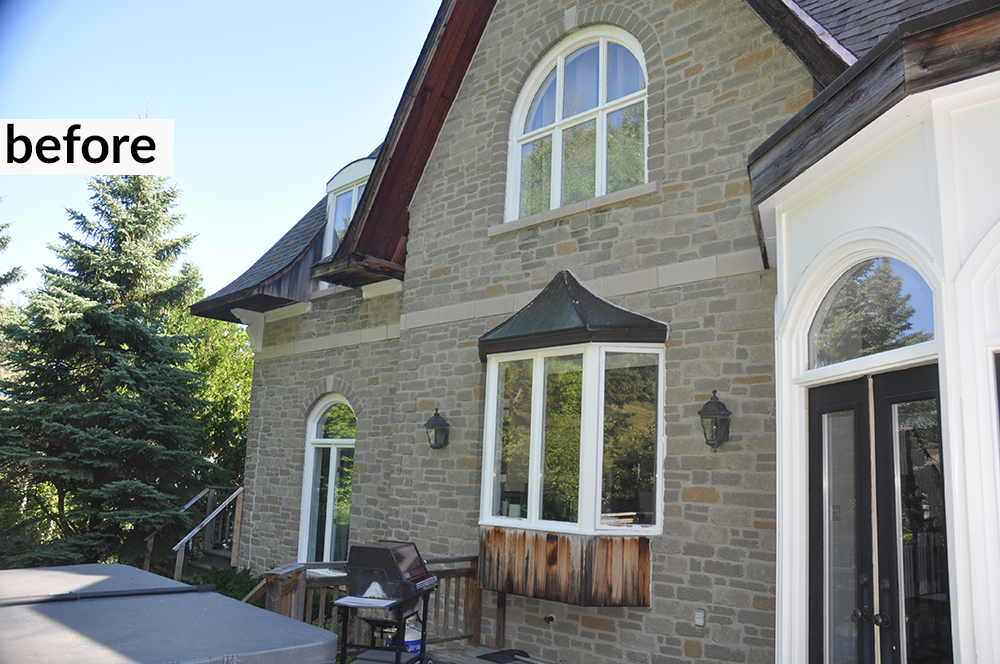 The wood below the rear bay window and above were weather damaged and unsightly.
In cottage country, the snowfall is heavy and at certain times of the year, the bottom of the bay window is sitting inside a snowbank. To prevent continued degradation, we replaced the rotting wood with PolyVinyl Chloride (PVC).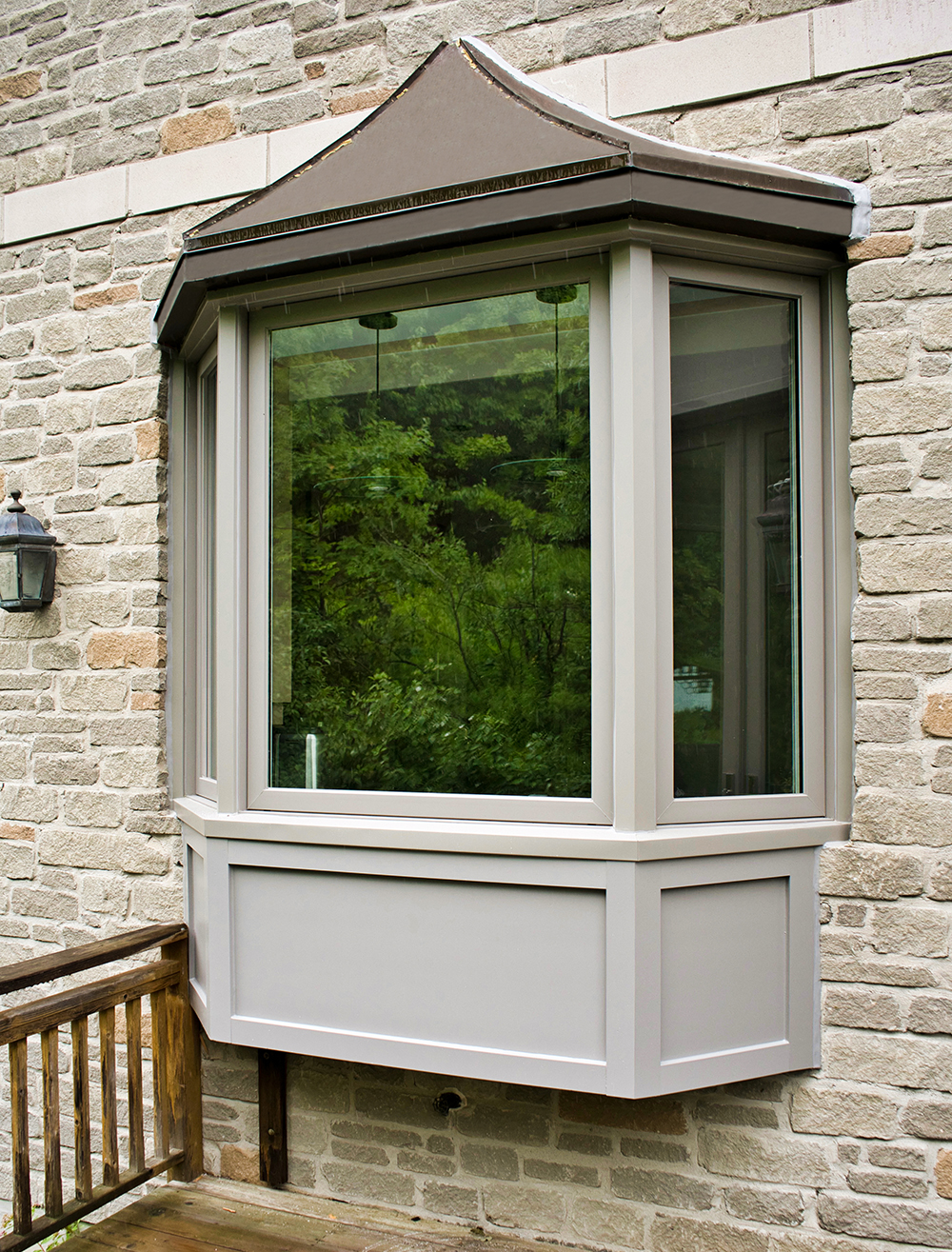 PVC will never rot providing a 100-year solution. The price difference compared to a weather-resistant wood was minimal and the product was not difficult to work with. We pre-painted the colour of the panels to match the windows.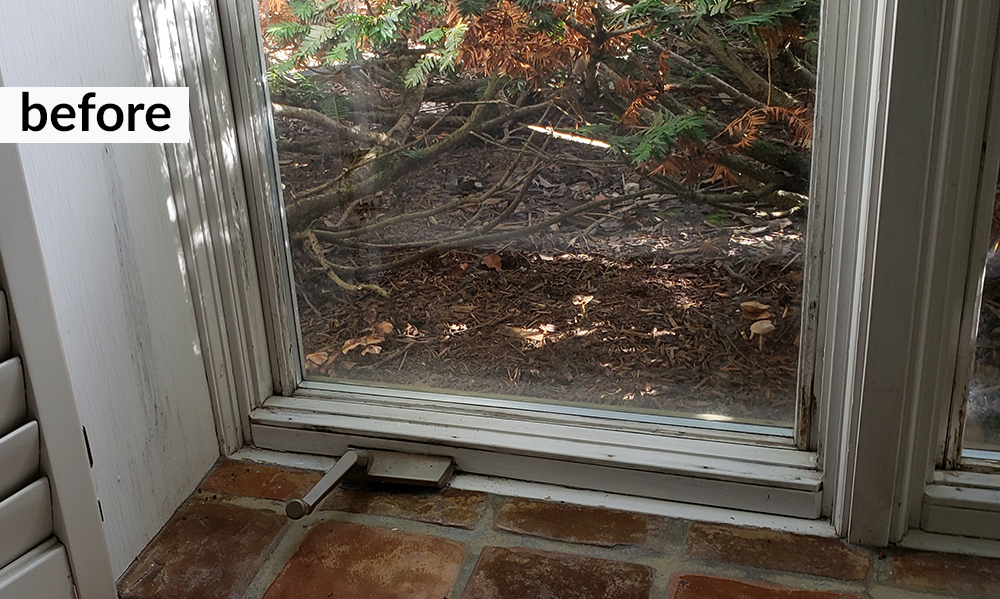 On the interior, one of the rooms had a hot tub creating high humidity which caused the window jambs and sills to rot. Instead of replacing the old wood with new wood, we proposed replacing those areas with PVC.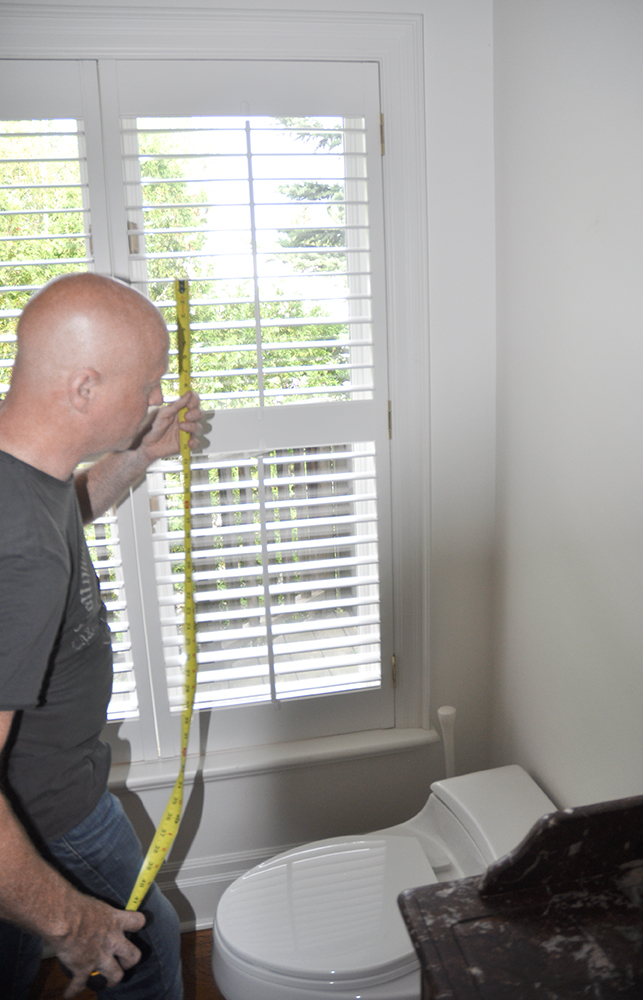 Another challenge was to replace the windows but keep the custom California shutters. With some creative measuring by Ken, Luka, and some skilled carpentry work by our installers Oleg, Magnus, and Evgeni, we successfully incorporated the shutters into the new windows.
Besides changing the exterior window colour, the homeowner had an additional goal – to improve the sightlines looking out of the windows. We did this by replacing the old with larger paned windows removing horizontal and vertical bars from their view.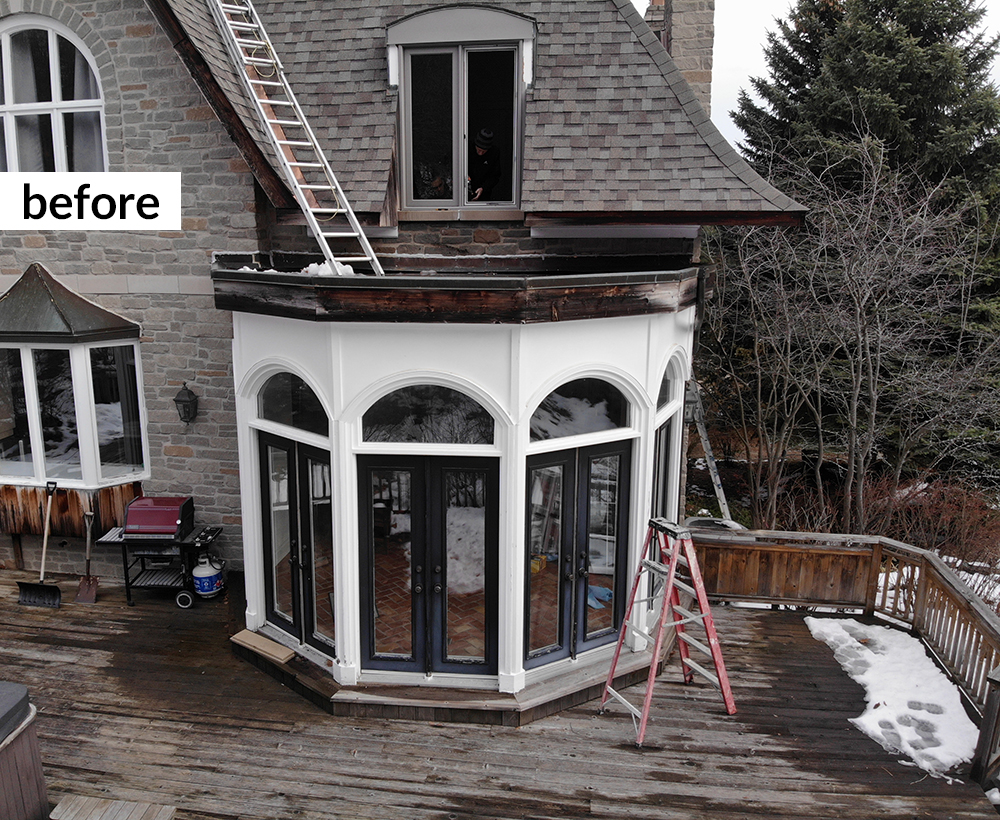 The rear half decagon had five sets of double French doors that were never used. We replaced four of the double door sets with large square windows and removed the curved transoms. This greatly improved the view looking to the backyard and allowed more light into the home.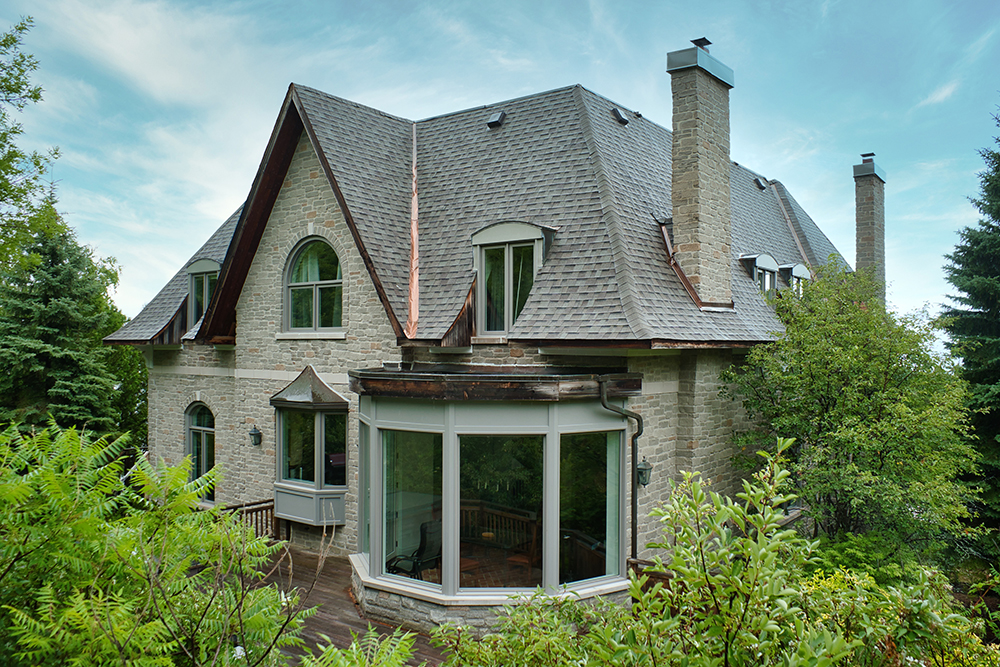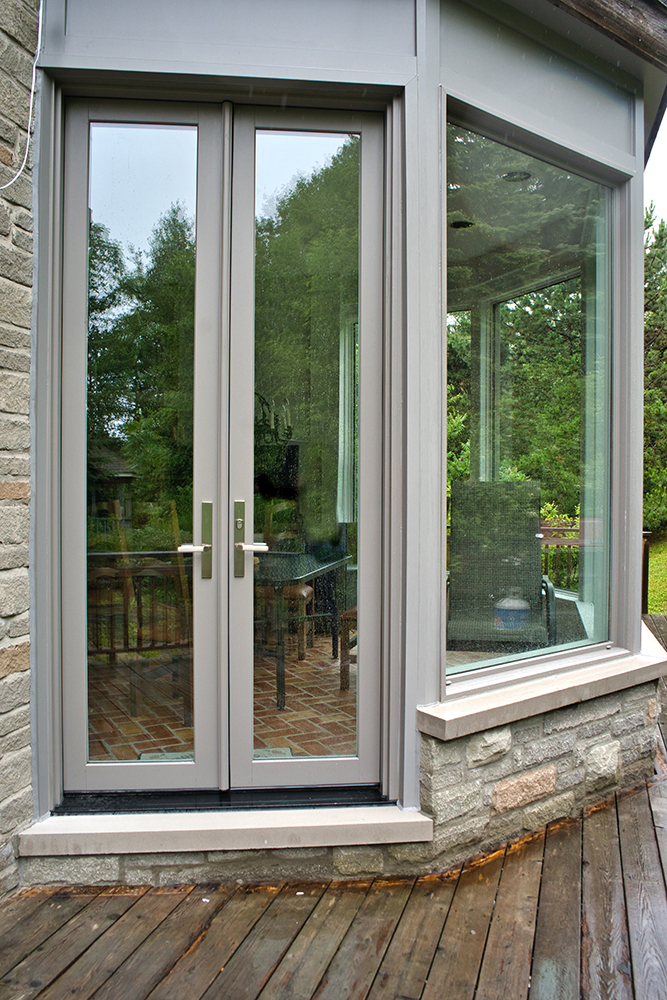 The remaining double door was also replaced with a weather-resistant fiberglass double door with an EMTEK handle set with a lifetime warranty on the finish.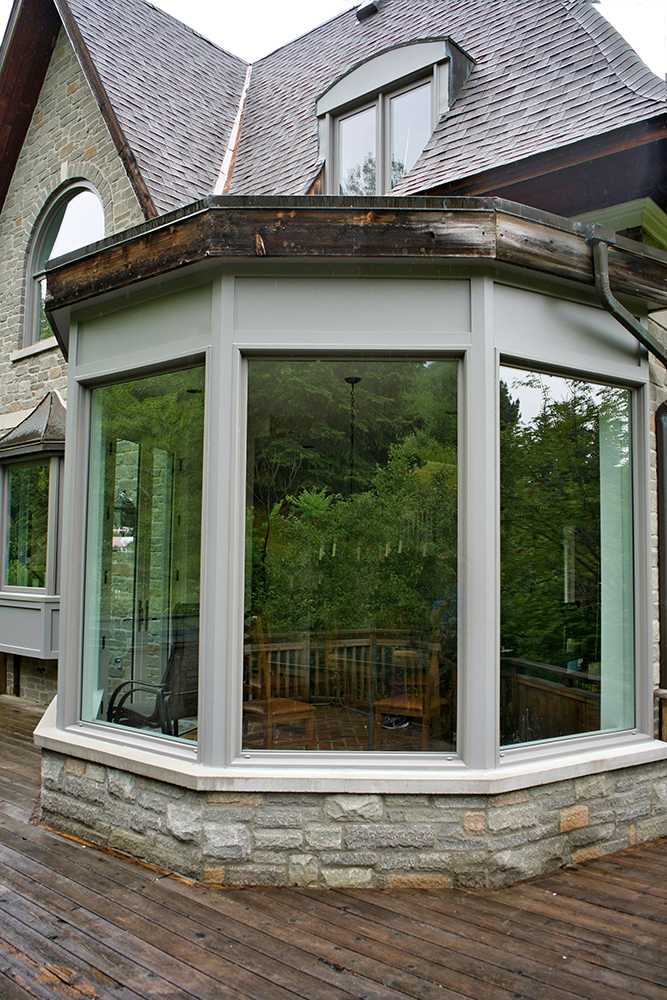 To complete the finishing touches, the area below the new decagon windows was finished with stone sills and stone exterior, matching the look with the rest of the homes' brick finish. Once the homeowners complete their exterior renovation, the decks, the remaining wood finish and replace the entry door, this vacation home will look fantastic.
If you're thinking about replacing your windows and doors, speak to an expert today to get started on your next project.