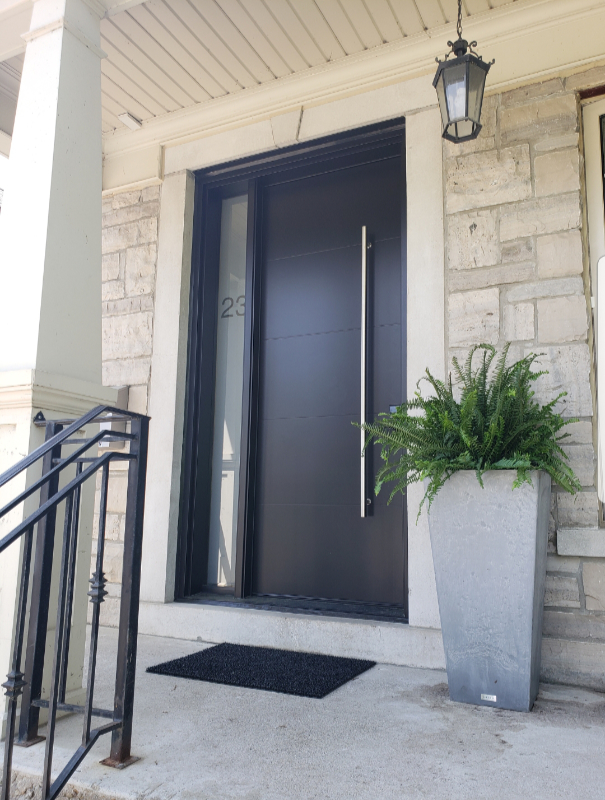 (Black Fiberglass Modern Door)
A few years ago, my husband I bought our dream house. We purchased a fixer-upper and completely gutted the kitchen, living room, bathroom, basement and we needed a new entry door.  It was our chance to put our personal touch on our house. We were involved in choosing everything, even down to to the baseboards. Every night we would browse Pinterest and pin our favourite photos for inspiration. Sometimes I wish I could go back, not because I would want to change anything but because I love the process of choosing what you want for your house.
When it came down to choosing an entry door, there were so many possibilities that I didn't know where to start.  Now, this was before I started working at Fieldstone, so I kind of wish I knew what I know now (okay, maybe I would change a few things, like get new windows, but that's for another blog post). To help you, I've narrowed down 5 things to consider before selecting an entry door:
What type of Material?
There are three types of door material to consider:
Steel – Cost efficient and readily available with glass and paint options.   Steel doors won't warp, however, they can dent. If there is direct sunlight on a steel door, heat can build up and it will feel hot to touch.
Fiberglass – More expensive than steel doors, however, if you like the appearance of wood without the maintenance, this would be your best option.
Wood – Who doesn't love a solid wood door? There are more possibilities for shapes and sizes. Keep in mind, wood is more costly than steel and fiberglass doors. If you do choose a wood door, keep in mind it's best to have a large roof overhang to protect solid wood doors, especially on southwest exposures. 
What's My Style?
Is the style of your home modern or more traditional?  For example, a modern full glass panel entry door on a Tudor style house might not be the best option. For our home, we leaned towards traditional to match the exterior of our home.  I knew I wanted more curved panels as opposed to straight, sleek modern lines. 
If you have traveled outside of Canada, you might have noticed there are many neighbourhoods that don't shy away from bold door colours.  There are even many Instagram accounts dedicated to entry doors in Toronto and by browsing through the images, you'll see doors in all different types of colours. (hint → you can follow our Instagram account for door inspiration. ) Choose a colour that you can live with for years and complements your house and style.
What's My Level of Privacy?
Before selecting the material, colour, or hardware, I knew what my level of privacy was.  I wanted panel door with a sandblasted sidelite for privacy and to allow natural light into my entryway. 
Here are some doors with various glass options: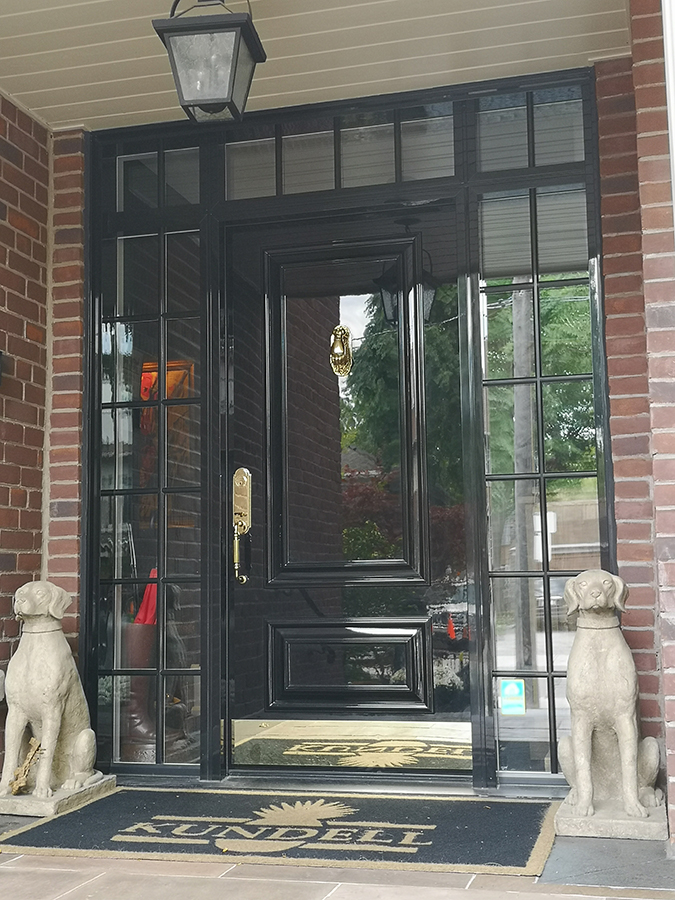 High Gloss Black Entry Door
Full-length obscure glass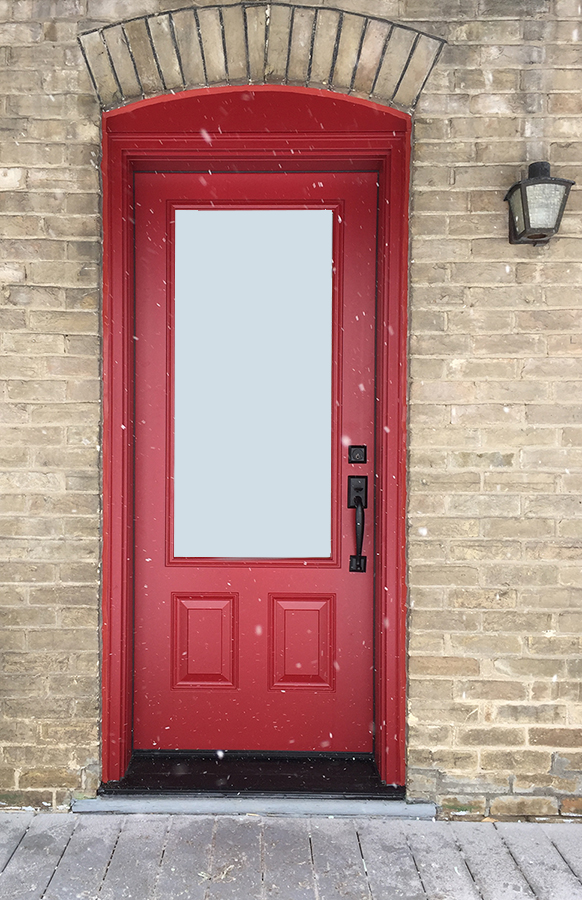 What Type of Hardware Do I like?
Choosing the right hardware is like choosing the accessories for your outfit to complete the look.  Since you're investing in a new door, you don't want to choose just any hardware. You want to select something that will complement your door.  With so many choices to choose from, with brass, nickel, flat black, satin brass, and oil bronze, it's easy to get overwhelmed.  For example, satin brass goes well with modern and contemporary designs and complements deep rich colours. A modern entry door would typically have a stainless steel finish, whereas a rustic door would have an oil bronzed finish. 
Once you decide on the finish, you can decide on the type of locking system you want.  Here are the different types of hardware locks:
Tubular Locks –  The deadbolt and the latch from the doorknob/handle are in two separate holes. Tubular locks are seen on most doors as they are easy to install and don't require special tools and are mostly seen in modern construction.
Multi-Point Locks –  Offers maximum security with a deadbolt positioned in the middle of the door and a bolt at the top and the bottom of the door.
Mortise Locks –  Offers more security because both the deadbolt and latch are placed in one hole.  Installing a mortise lock will require special tools and will often need a professional installer Mostly used on solid wood entry doors for old fashion function and security.
What's My Budget?
Last but not least, let's talk about the budget. Since we were renovating our entire home, I had a limited budget for our entry door but I knew I wanted long-term benefits. As the saying goes "you get what you pay for" and I didn't want to replace my door in a few years.  Depending on the material, style, level of privacy and hardware will help determine how much your door will cost.
There are many things to consider when selecting a new entry door. Contact us and book a free in-home consultation and we will be happy to help you choose the right door for your home.
Written by:
Melissa Reyes